Matteo has performed at, literally, thousands of events including private and corporate parties and at festivities in the local and not-so-local club scene. He never fails to exceed the expectations of his clients. His skill in reading the crowd and adapting to the dance scene of each event is second to none. His versatility, coupled with one of the industry's largest libraries of music, separate him from other DJs.
A skilled emcee, many clients have entrusted Matteo to present awards, warm up the crowd and introduce other bands/acts. With almost two decades of mixing under his belt, Matteo is the consummate professional. His years of experience as an emcee and DJ for urban happenings has given him a sixth sense about what works best for each event. With an impeccable list of references, a truly encyclopedia knowledge of music and good taste that can be not taught, Matteo guarantees the music will be exactly, precisely, indubitably... on the money!
Whether you need him at home in San Francisco or abroad, Matteo delivers.
Matteo is also available for consults on art direction, themes, lighting, sound and logistics.
History
Born in NYC, Matteo arrived in San Francisco as a Navy Medic, and then attended college in the SF Bay Area. Building on a lifetime of passion for music, health and food, Matteo used his tenure as a working DJ to launch the SF cable show "The Conscious Kitchen". Soon following, he opened the local organic juice bar, Feelmore Juice.
Matteo has traveled the world absorbing, collecting and, most importantly, listening to music. Through the process some call "living", Matteo has internalized whole genres of music and beats, turns and tables, and is always cultivating his selector techniques.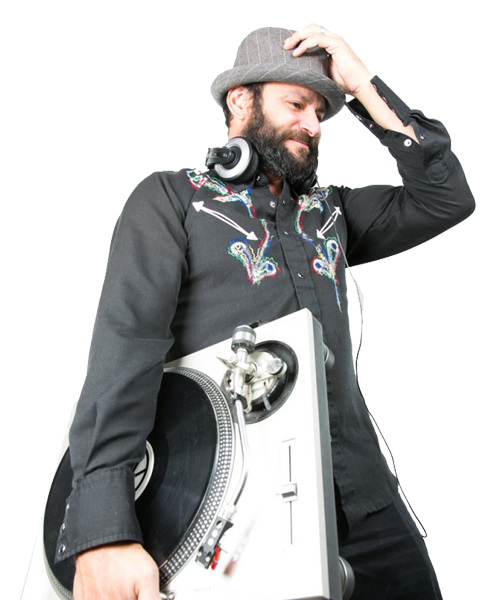 Matteo has had the honor of spinning around the country and around the globe. He has DJ'd for the likes of Sharon Stone, Barry Bonds, Ellen DeGeneres, MTV, UPN, QTV, as well as spinning at after-parties for Earth, Wind & Fire, Red Hot Chili Peppers, Smashmouth, Elton John, Chris Isaak, English Beat, Men at Work, and many others. While emceeing certain parties, he has had the honor of introducing Ella Fitzgerald, Tower of Power, and The E Street Band, to name a few. Matteo is just starting to hit his stride and is always looking forward to his next musical challenge, awaiting the opportunity to bring out the best in dance crowds.