Why use DJ Matteo & Associates?
DJ Matteo & Associates is a consortium of some of the most talented DJs in San Francisco who also cater to the Bay Area. DJ Matteo and his Associates have performed consistently at the top of their profession and bring their full experience and focus to each corporate event, wedding reception, private party, in any venue, large or intimate. Preparation is what DJ Matteo and his Associates are all about.
From providing detailed and comprehensive music plans to clients, to customizing sound placement for each specific room, all services offered for each event are detailed with precision. All of Matteo's Associate DJ's have at least 10 years of experience, and each are trained in traditional deejaying skills with turntables and vinyl, as well as the latest innovations in emerging new music technologies. And, they are always well dressed, on time, and prepared.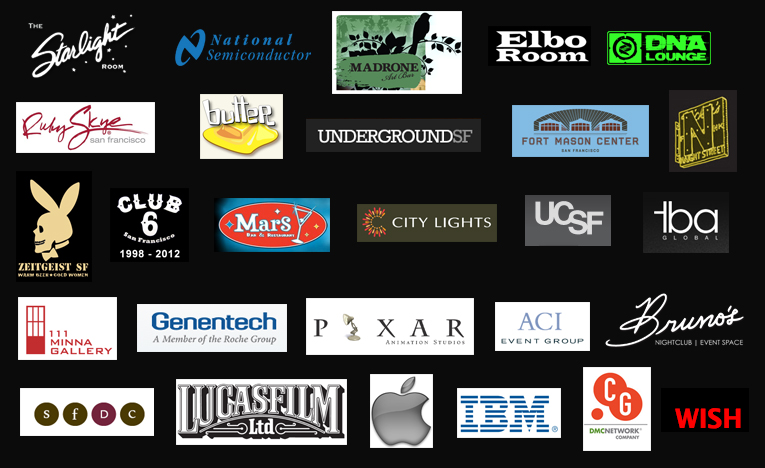 What services do you offer?
High end DJ sound systems: Technics turntables, Rane mixers, amps, laptops, speakers, wireless microphones, extensive repertoire, all connectivity and accessories. Sound and mixing for ceremonies. Lapel microphones & free standing microphones.
Masters of Ceremony.
Cocktail area sound systems/chill room sound/ public address systems.
Lighting equipment including led panels, uplights and impact effects.
Producing, re-mixing and editing custom tracks.
Dancers, artists, set design and theme consultation.
How do we book you or your associates?
All bookings are done on a first to inquire and first signed contract basis. There are soft holds only unless otherwise specified by DJ Matteo and Associates staff. Once you decide to use us, you will get your specific DJ for your date. No substitutions.
If you would like a proposal/contract promptly just provide us with the following info:
Email
Phone Numer
Address
Venue
Hours
Services requested
Or simply fill out the specific forms:
Save
Save
Save
Request a DJ for your next Event
Have all the details figured out? Click on the type of event you'd like to book DJ Matteo & Associates:
How involved can we be with the music selection?
This is your event. We want and need your input. Please feel free to be as comprehensive as you want with your selections. We know music and want the party to reflect your tastes.
Are we insured?
Yes! Many venues require it. Sometimes riders/document/POI's are needed. If that's the case, just send us the contract and fax number of the venue. We take care of the rest.
Do you have references?
Yes, hundreds! Per request. Feel free to check us out on yelp as well.
Does the DJ carry backup equipment?
Yes. Though it's extremely rarely needed. The office staff is always available on event days for any last minute situation.
Will the DJ be our Emcee and make announcements?
Yes, your DJ will make all the necessary announcements that you request.
When is my request list, time-line and planner due?
We recommend having this in 3-4 weeks prior to your event. You may still submit it up until the day of the event, although the closer to the date, the more difficult it may be to fulfill all your requests.
Save
Save
Save